RETINOL CORREXION® Deep Wrinkle Targeted Patches
SIZE: 3 pouches; 2 patches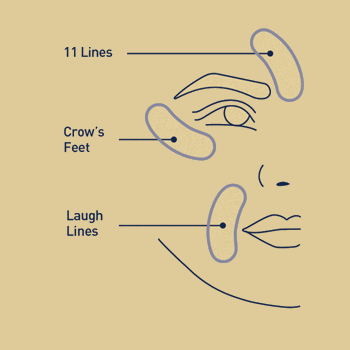 PROVEN RESULTS
WITH JUST ONE APPLICATION
97% had visibly re-plumped lines & wrinkles.
IN TWO WEEKS
Wrinkles were visibly reduced by 25%.
WITH CONTINUED USE
100% showed continued improvement in wrinkle reduction.
For even better results, use in conjunction with a RoC® serum and moisturizer.
Non-invasive
Dermatologist tested
Fragrance Free
Paraben Free
Phthalate Free
RoC Retinol Correxion Deep Wrinkle Targeted Patches are a great way to treat wrinkles in a flash! Apply these Patches overnight. Each patch has 80 micro cones that melt as they're heated by our skin, delivering a triple dose of retinol, hyaluronic acid, and peptides that produce visible results in as little as one treatment.
Dr. Kenneth Howe; Board Certified Dermatologist
KEY INGREDIENTS
Pure RoC® Retinol
Retinol is a retinoid, a derivative of vitamin A that naturally occurs in skin. Our exclusive formula accelerates the removal of old, dull skin cells on the surface revealing fresh, new ones. The result is vibrant and healthier-looking skin.
See all ingredients

Sodium Hyaluronate, Sodium Hydroxide, Cyclodextrin, Retinol, Acetyl Octapeptide-3, Allantoin, Glycine Soja (Soybean) Oil, Panthenol, Water/Aqua/Eau, BHT.
DIRECTIONS
STEP 1: After cleansing, dry desired treatment areas thoroughly. Peel off adhesive white strips

STEP 2: With dry hands, apply patch with cone-side down, gently pressing for 5-10 seconds. you may experience mild tingling during use as micro-cones dissolve. This is normal and is temporary.

STEP 3: Wear for at least two hours. For even better results, leave patches on for 6 hours or overnight.
COMPLETE YOUR ROUTINE
The best products to pair with RETINOL CORREXION® Deep Wrinkle Targeted Patches